Homebase
June 2017
The Junior pupils went to Homebase and planted some sunflowers in the garden centre. Everyone enjoyed planting seeds in pots. Homebase kindly gave all pupils a plant to take home for their garden and treat. Thank you Homebase.
Celebration Assembly
22.6.17
Every year Mr Ward hosts a celebration assembly for all pupils. Our parents and governors are invited to come along and join in with the puils as they celebrate and are recognised for their achievements throughout the school year. This year Mrs Barabara Black handed out certificates to the Juniors and our local Mayor of Antrim and Newtonabbey Borough Council, Paul Hamill to the Seniors. Everyone continued the celebrations outside for a BBQ. We said a sad farewell to some of our Senior pupils. We will greatly miss Kirsten, Josh, Aisling, Evie, Dylan, James and Odhran. We wish you all happiness and every success in the future.
Riverside would like to thank everyone who attended and Geordie Grattan for his continued support to Riverside School and for cooking the BBQ for everyone.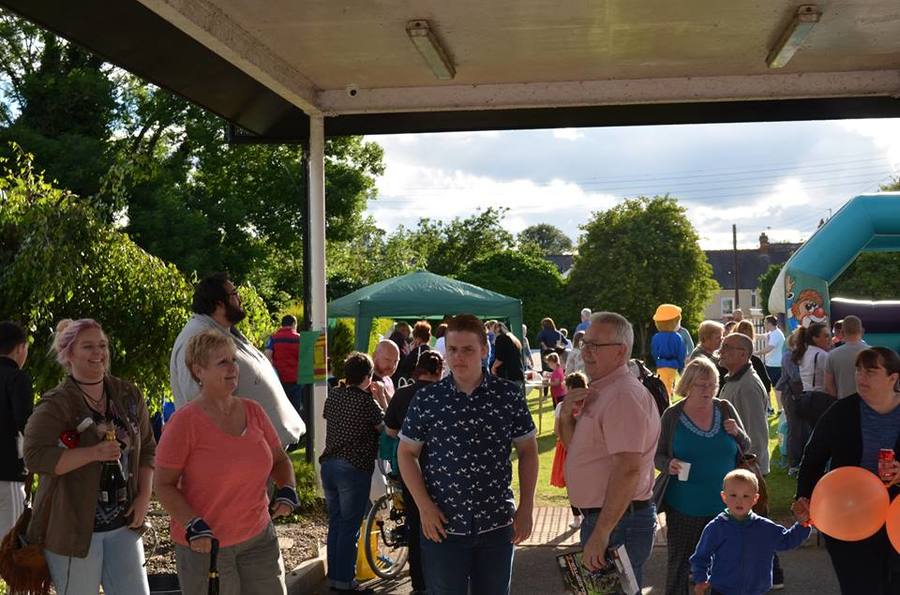 Healthy Week
12.6.17
All pupils enjoyed a week of healthy and physical activities organised by Mrs Ravey and Mr Andrews. Each day, the pupils had the opportunity to try out a healthy eating choice such as fruit kebabs and smoothie lollies. We took part in dancing, an obstacle course and some of us walked a mile. Everyone at Riverside is feeling much healthier after this week!
Sports Day
11.6.17
All pupils at Riverside enjoyed Sports day at Antrim Forum this year as it was raining. All pupils were split into four coloured teams and given a set of challenges including the egg and spoon race and football dribble. Everyone took part and had great fun. The greens took the win this year and each received a trophy. The others received a medal each. The staff and parents took part in and enjoyed an adult race. Day fresh provided each pupil with a complimentary snack bag.
A super fun filled, sporting day was had by all. Riverside would like to thank Day fresh for donating the snack bags, Antrim Forum for hosting us, the parents, friends, staff and pupils for taking part and being great sports and for Mr Andrews organising a great day.
School Formal
8.6.17
Post primary pupils from special schools in the Northern region enjoyed their school formal at Galgorm Manor. Everyone was greeted by Galgorm staff and a non alcoholic punch reception. Everyone enjoyed an acoustic music session before sitting down to a delicious 3 course meal. Afterwards a DJ came on and everyone danced the night away. A great night had by all. Riverside would like to thank Roddensvale School in Larne for hosting.
Moe's Grill Fun Day
27.5.17
Moe's Grill celebrated their 10th anniversary by having a fun day in aid of riverside school. Parents, pupils, staff and friends of Riverside School joined the local community down at the restaurant for a great days entertainment including a super BBQ, performances from the Gillian Dougan Dance School, bouncy castles and more. Thankfully the weather stayed dry for everyone to enjoy the day. Riverside would like to publically thank Moe's Grill for their continued efforts and support to Riverside School. From all of us at Riverside, everything you do is greatly appreciated.
Converting media.
(Media will continue converting in the background)
Young Enterprise AWards
18.5.17
Riverside Young Enterprise Tem, 'BOOM' attended the Young Enterprise Awards Ceremony at the City Hall in Belfast. The pupils dressed up in formal attire for the occasion and enjoyed a sit down meal. Ben received Best Sales Award on stage. It was presented to him by local TV weather presenter, Barra Best. Well done Team BOOM!
Pathways Trip to Manchester
Wed 10 to Fri 12 May
A group of 9 Pathways pupils and 4 members of staff travelled to Manchester on Wednesday 10th May for our school trip. We had a very early start as we had to be in the airport for 5.30am!! When we arrived in Manchester we went to Manchester United's football stadium – Old Trafford. It was a fantastic tour but only Leah and Caitlín seemed to really enjoy it as the only United fans there! After our tour we checked into our hotel and went for a walk to the Trafford Centre where we watched Guardians of the Galaxy 2 in the Odeon Cinema. We really enjoyed it – we laughed a lot!! We all had an early night as we were so tired! On Thursday we had a brilliant experience in the iFly Centre when we all got to experience a Skydive. It was so much fun and Mr Ward and Brenda were brave enough to go really high! Afterwards we went to Manchester's Museum of Science and Transport. It was very interesting but the best bit was seeing all the old planes. We really loved getting into a simulator that was like the Red Arrows – we felt like we were in one!! We enjoyed dinner out on the Thursday night in Frankie and Benny's and on Friday we got to go shopping in the Trafford Centre. We all had money with us to spend so the girls and boys split up and went shopping! We all had a great time in Manchester and were very tired when we arrived home.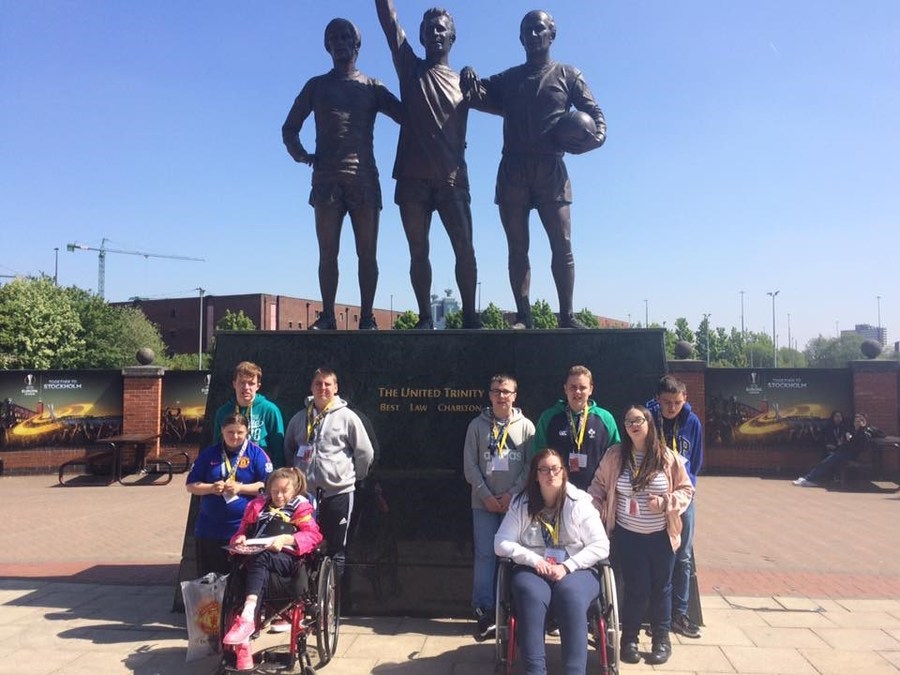 Credit Union Competition
17.5.17
Some pupils entered an Art competition for the Credit Union. Riverside welcomed Keith Savage to come down and present certificates to the winners at an assembly. Ewan got top prize and won a trip with his family to go to Croke Park in Dublin to officially receive his award. His Art work won best in region.
Dave's last Day
17.5.17
Today was Dave the bus driver's last day. Everyone at Riverside; staff, parents and the local community will miss him dearly. He showed great kindness and generosity to all our school children and young adults. We wish him all the best for the future. He has promised to keep in touch with the school. Riverside would like to thank Dave for everything he has done for Riverside School.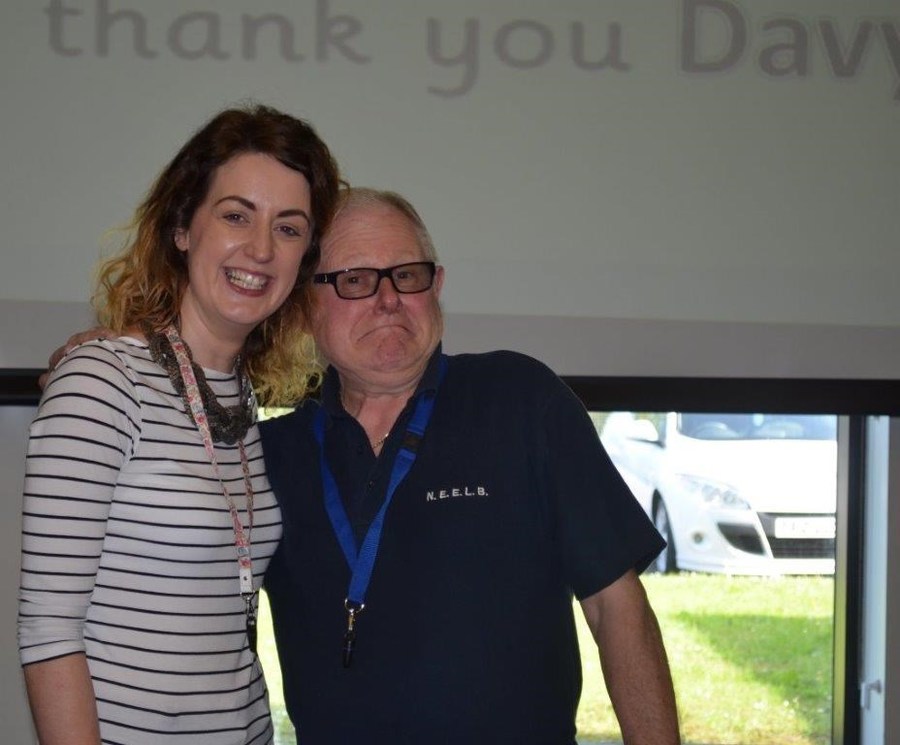 Charlotte's Web
10.5.17
All the pupils at Riverside were very excited to watch an MM performance of Charlotte's Web in School. The cast did a great job of telling the story. Also, a class of P6s from Mount Saint Michael's Primary School in Antrim joined the event. Everyone enjoyed it.
Forest Schools
8.5.17
This year Riverside received a Forest Schools Award which has been kindly sponsored by Antrim and Newtownabbey Borough Council. Forest Schools is all about getting learners outdoors and exploring the environment around them. It based on a Scandinavian idea that considers contact with nature to be extremely important from an early age. This award has included Forest schools sessions for senior classes and has allowed staff to be trained with a Forest School Leader Award Level 3. As of next year Riverside will officially be an accredited Forest School allowing all classes to avail of this fantastic programme. S1 and S2 have been taking part in sessions this year in Antrim Castle Gardens. They have been working hard to earn their Nature Ranger Certificates! More information on the Forest School programme can be found at http://nifsa.org.uk/
Rebound Therapy
6.5.17
Riverside School is delighted to have two staff members now trained in Rebound Therapy. Rebound Therapy is a form of physiotherapy. It uses trampolines to provide therapeutic exercises to people with a wide variety of disabilities and additional needs. The therapy involves using the moving bed of the trampoline to promote movement in the participant.
Riverside is now a Makaton friendly school!
5.3.16
Riverside School is a certified member of the Makaton Friendly Scheme. It has been recognised that we are promoting makaton to help with communication among our pupils and parents. We are one of the first organisations in the Antrim area to be awarded this status.
Well done to pupils and staff for achieving this.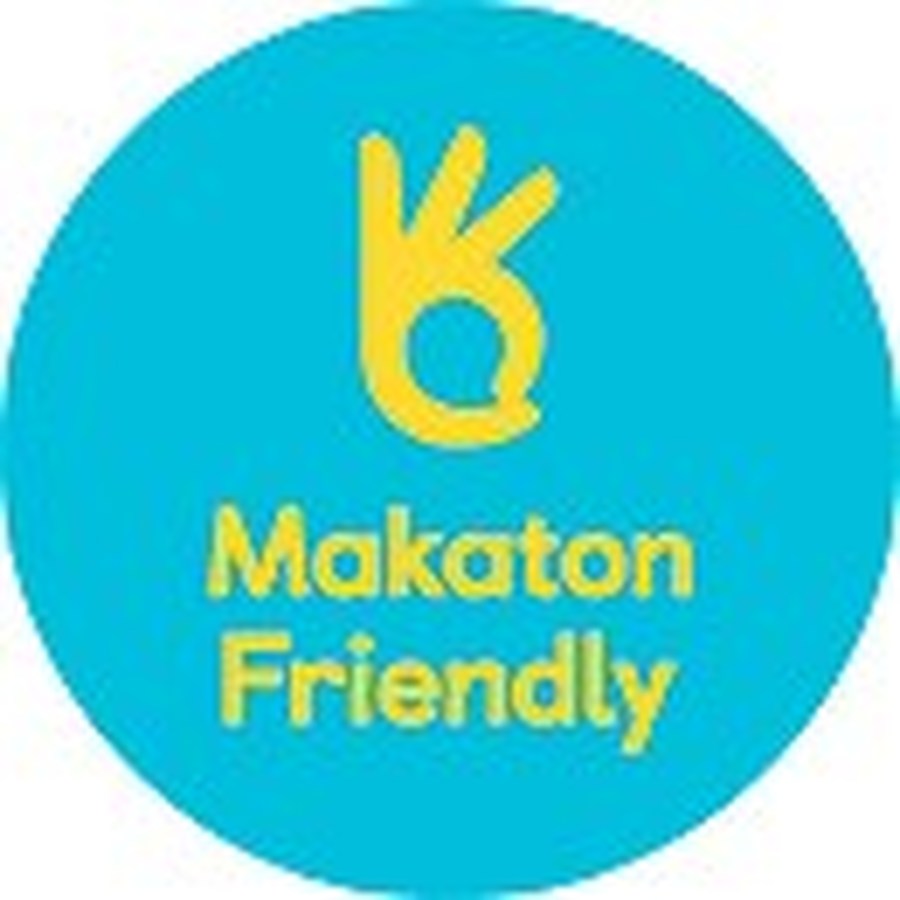 Raising Money for Autism NI
7.4.17
This year, Riverside School have chosen their charity to be Autism NI. As this was Raising Aeareness for Autism week, Ms Duffy organised a few fundraising events and activities for parents, pupils and staff. Fundraising events included a coffee morning in school, a wear blue day, a sponsored silence and selling soup for staff lunch. A total of £905 was raised which was topped up to £1000. A super effort made by everyone to raise money for a great cause. Riverside would like to thank everyone who helped or contributed in any way.
Easter Celebrations
7.4.17
The Juniors and Seniors had a busy day on Friday. Everyone wore blue for our Autism NI fundraising week. The Juniors made their own Easter bonnets and paraded around the school with these. They also enjoyed a special Easter themed communal break and Easter egg hunt in the Sensory Garden. The Seniors took part in an Easter egg orienteering adventure. Miss McCann was the first to set off and try to uncover the clues.
Pathways are Young Enterprise Champions
6.4.17
Pathways got to take a trip to the Titanic Quarter for the Young Enterprise Regional finals. Not only did they win best team but Ben won Young Entrepreneur of the Year! What an achievement from all pupils. Well done Pathways!
St Patrick's Day
17.3.17
The whole school enjoyed celebrating St Patrick's Day. The Juniors enjoyed a communal break with potato and soda bread, watched and took part in their own Riverdance, played musical shamrocks and had a mini parade around the school. The Seniors enjoyed a disco in the afternoon.
Dramability
16.3.17
J3 and J4 are enjoying a 10 week drama programme in school. They are learning early performance skills such as singing, dancing, action songs and rhythm making. All pupils are really enjoying this as they develop their confidence.
S1 and S2 visit McKinstry Skip Hire
10.3.17
S1 and S2 learned lots about their topic on recycling at McKinstry skip hire. Thepupils practiced health and safety on site and got to see how items are dumped and recycled at the skip yard.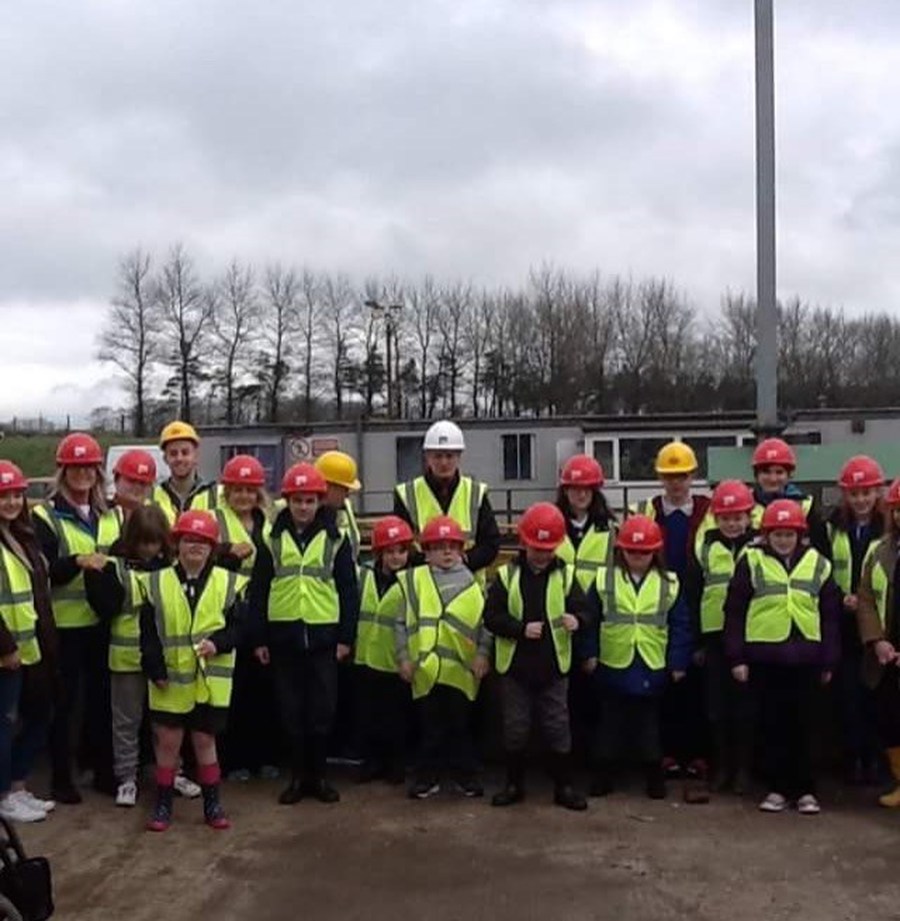 Football friendly
February 2017
Some of senior pupils had the opportunity to travel to Kilronan Special school in Magherafelt for a football friendly. All pupils enjoyed the experience and hope to play each other again sometime soon.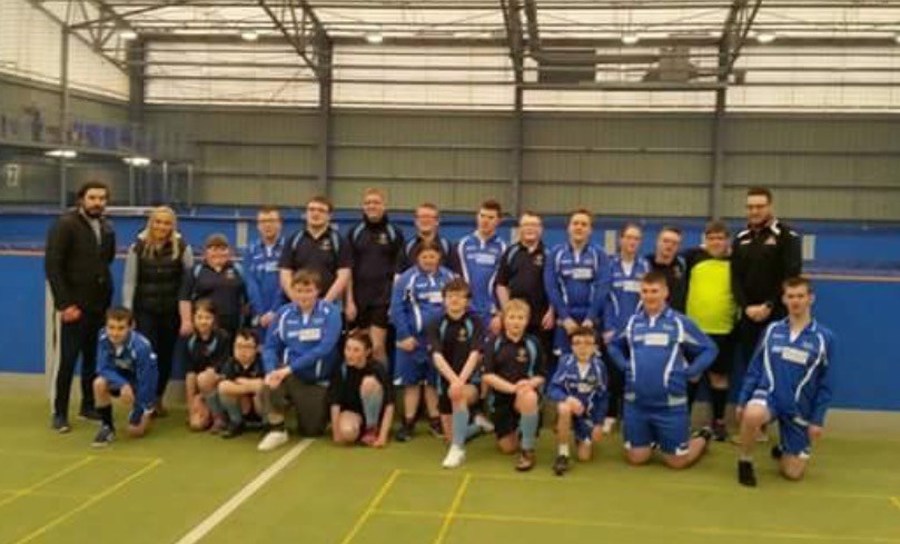 BOOM!
13.3.17
Please see below the latest products available from BOOM. If you would like to make an order, please fill out the form below and send it into school with the correct money. All orders graciously received.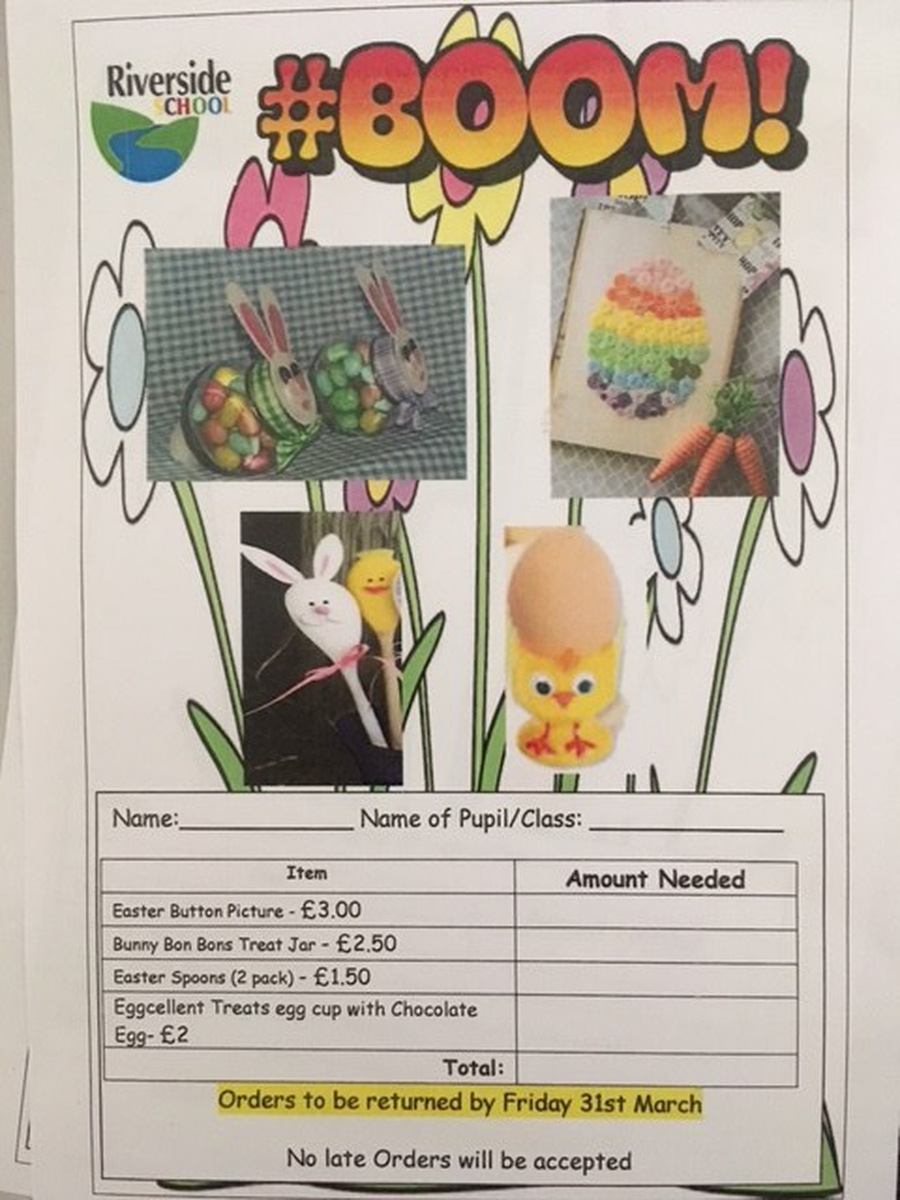 Pancake Tuesday
28.2.17
Lots of pupils developed their Numeracy skills in Shape, Space and Measures as they made their own pancakes for Shrove Tuesday and flipped them!
World Book Day
2.3.17
Pupils across the school joined others from all over the world to take part in World Book Day. Everyone was invited to dress up as their favourite book character. Mr Ward and the Senior Leadership Team dressed up as Prince charming and the three ugly sisters. Sharon in the office became Cinderella for the day. The pupils enjoyed a variety of story telling sessions and J3 and J4 visited Antrim Library. A fun-filled day was had by all!
Ulster Rugby Coaching
1.2.17
For the past 6 weeks, David Chambers, the Club Participation Officer with Ballyclare RFC, has been in with the pupils putting them through their paces with lots of rugby activities and games. They learned lots of great rugby skills. Follow the link below to see the full story.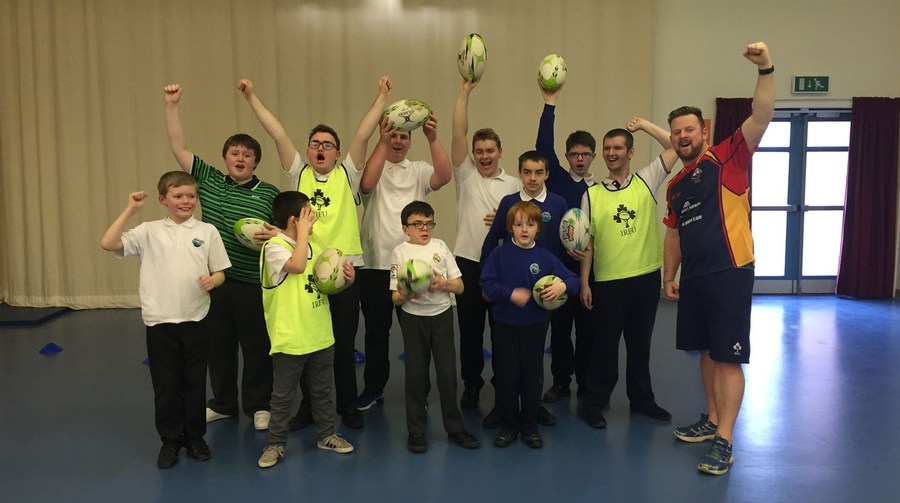 Greenmount Farm
8.2.17
The Junior visited Greenmount Farm as part of their topic, Farm to Fork. Kenneth from Greenmount talked to and showed the pupils around the cattle, sheep and calves. They also saw a Hereford Bull. The pupils learned lots about animals on the farm and how to care for them.
Chinese New Year Celebrations
27.01.17
Lots of things were happening around the whole school to celebrate Chinese New Year. The pupils enjoyed dance, art and craft activities and tasting Chinese foods.
The Junior Visit Ballycraigy Allotments
26.1.16
As part of their new topic Food For Thought, all the Junior pupils visited Ballcraigy allotments. Some very kind gentlemen took them around the different allotments and taught everyone about how things grow. Then all pupils had the opportunity to plant their own seeds in the potting shed.
Fun in the snow
13.1.16
The pupils at Riverside had lots of fun in the snow during recreation time and outdoor play.
Muckamore WI
5.1.16
Muckamore WI invited Colin Ward and Cathy Gaston to come to one of their meetings and speak about Riverside School and the fund raising for the school playground. Cathy and Colin gladly accepted the invitation and were presented with a cheque by Jean McCollam for £40 to go towards the playground as well as a lovely evening supper. Riverside School as a whole would like to thank Muackmore WI for their kind donation.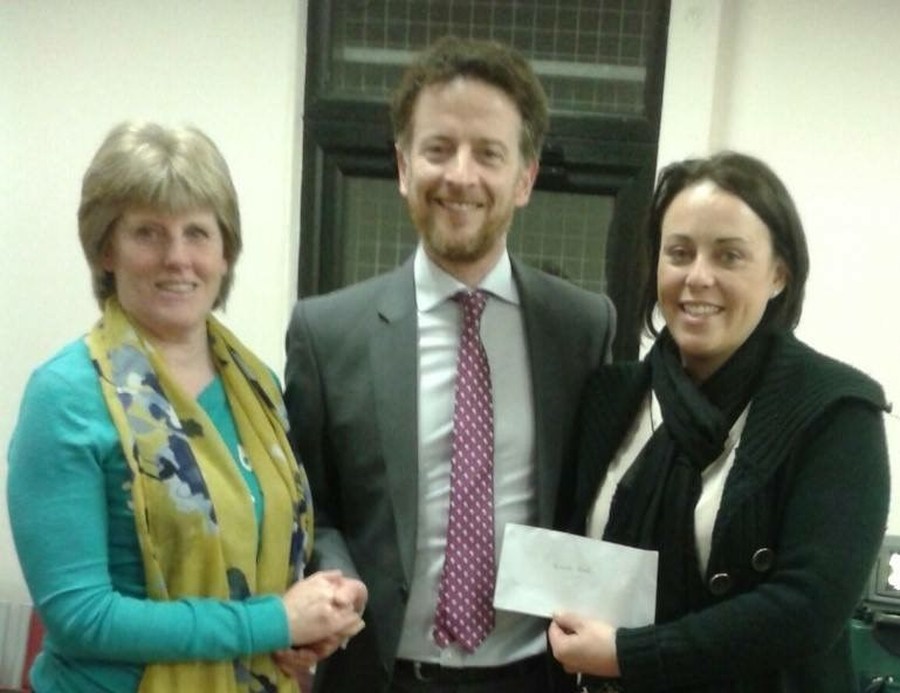 RDA Santa Party
14.12.16
The RDA hosted their annual Santa Party at Riverside School. The classes who avail of horse riding played games and had a visit from Santa. The pupils had a fun filled day. Everyone at Riverside School would like to thank the RDA for their continued support.
Gifts from Wray's
19.12.16
Riverside would thank to thank Wray's Funeral Directors for kindly donating a selection box to every pupil in the school.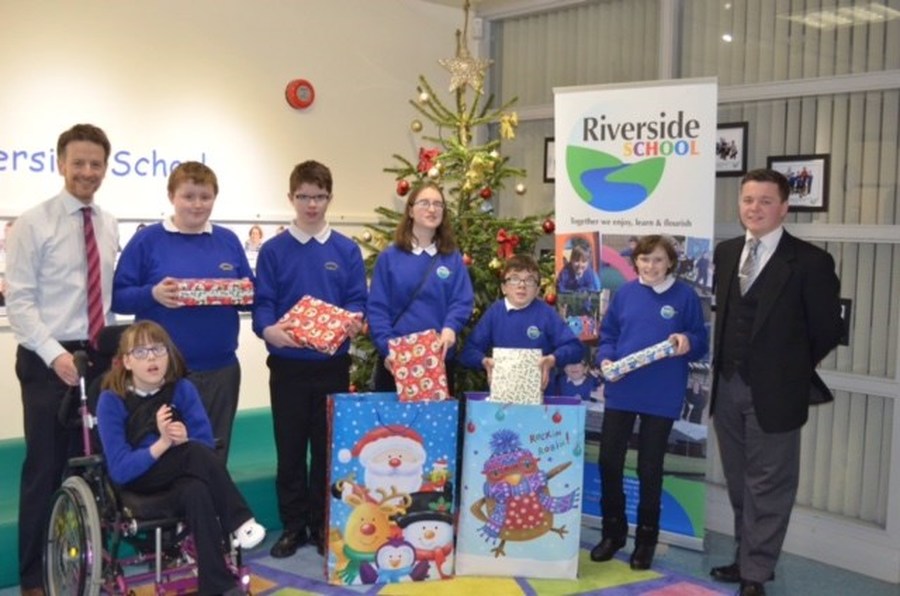 Pinocchio at the Mac Theatre
19.12.16
Every pupil at Riverside got to see the Pinocchio Panto at the Mac Theatre in Belfast thanks to the charity, Happy Days. All pupils really enjoyed this experience which was full of music, songs and magic tricks. The staff at the Mac Theatre could not have been more helpful to all our pupils and did their best to ensure this was a memorable and enjoyable experience for everyone. Each class went on a different day and some even got treated to their lunch out afterwards. A great way to end a busy year. Riverside would like to thank the Mac theatre and Happy Days for everything they contributed.
Crosskennan Animal Sanctuary
14.12.16
Crosskennan animal sanctuary came to visit the pupils at Riverside. They brought along two hens and a dog called Kim. The volunteers taught us how to look after and care for the animals. The pupils really enjoyed the experience and learned lots. Riverside school donated £38 towards the charity.
Christmas Show
9.12.16
Well done to all pupils who took part in the annual Riverside Christmas Show. The Juniors performed 'Whoops a Daisy Angel' and the Seniors performed 'Search for a Star.' All pupils did a fantastic job on the stage as did the staff. Riverside would like to thank everyone who contributed in any way or came along.
Summer the Miniature Pony visits Riverside
8.12.16
Samantha brought her miniature pony, Summer, to join in with Riverside Junior's Nativity play. Summer walked Mary and Joseph to the stage then joined the Juniors in class after. The pupils got to comb her coat and feed her carrots. Summer showed us some of her favourite tricks too! Everyone really enjoyed Summer coming to visit.
Links to Pink
1.12.16
Riverside School was very grateful to receive 1500 donation to the school play ground. Thank you from all of us!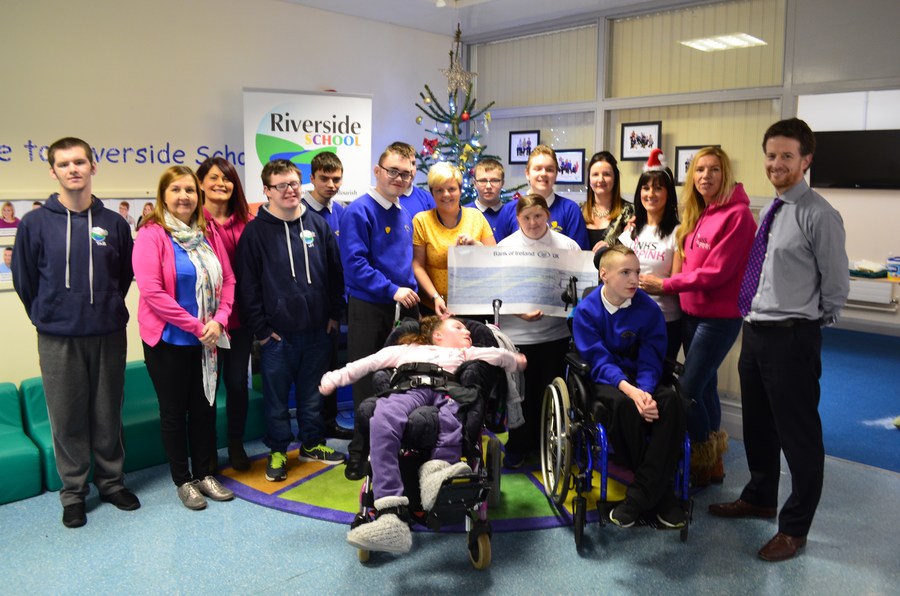 Annual Riverside Carol Service
1.12.16
The pupils put on a fabulous Christmas Carol service thanks to the great support by all staff and organisation by Miss Carmel Duffy. Junior pupils sang silent night and Senior pupils told us about the real meaning of Christmas. Father Emerson said a few words and afterwards we went into the foyer to turn on our Christmas tree lights. Everyone is now officially in the Christmas Spirit!
Boom
23.11.16
Check out the latest Christmas products being sold by Riverside's mini enterprise company, BOOM. To place an order, print out the form below and send it into Riverside School with correct amount of money owed.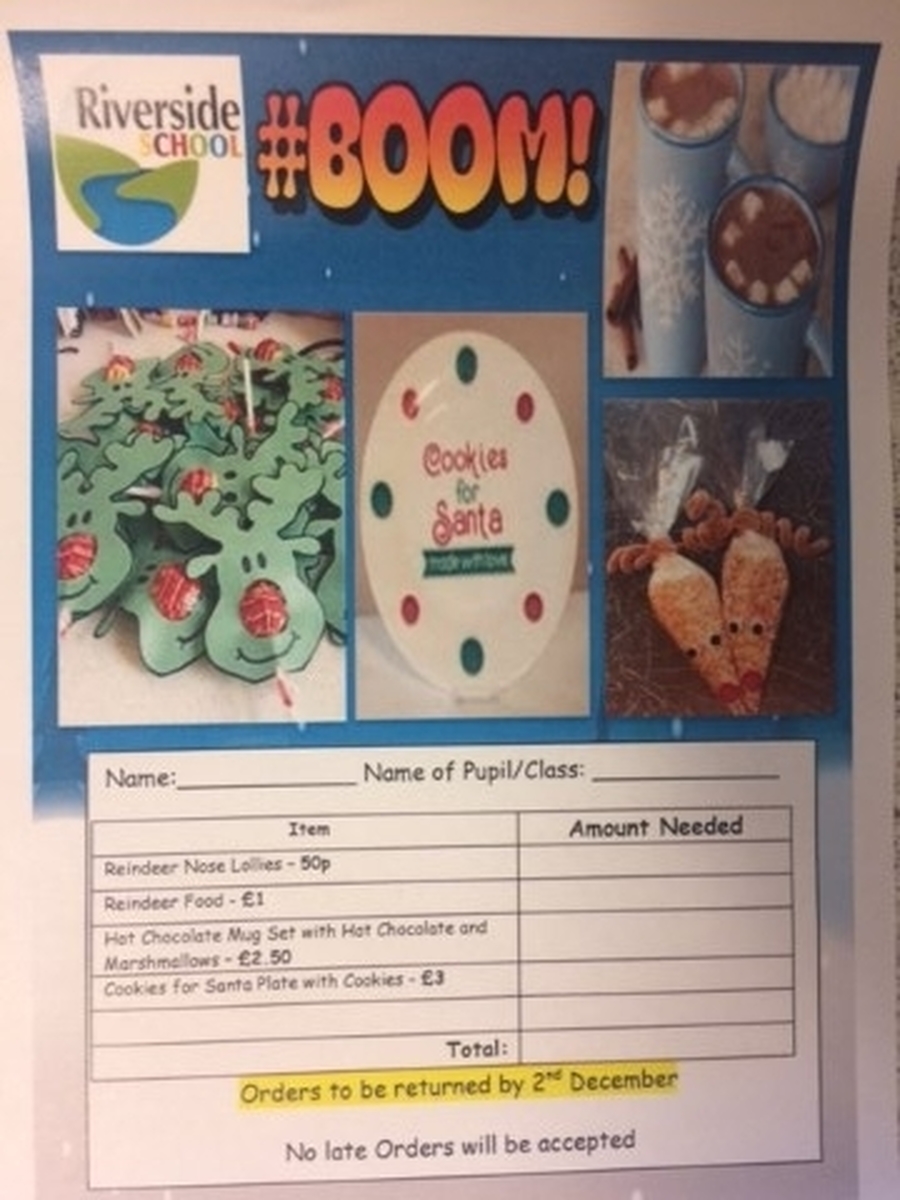 Replay Theatre at Muckamore Pool
18.11.16
A group of pupils from Riverside recently attended a Replay Theatre performance at Muckamore Pool.
The show was called 'Into the Blue' and it was aimed at meeting the needs of our pupils working on the Sensory Curriculum. The show was absolutely excellent; the pupils were greeted by the actors and they made them feel so comfortable and relaxed in the water. Once the performance began the actors introduced each pupil individually, singing to them and building their interest. The pupils were fully engaged with all members of staff, smiling, giggling and reacting to a wide range of stimuli. This was a tremendous opportunity for our pupils and we hope to avail of this again in the next school year. We would like to say a big Thank-you to all the wonderful actors for providing such a stimulating, fun and interactive session in a same and familiar learning environment.
Art Project For J4 and S1
27.10.16
On the 27th October S1 and J4 attended an Arts workshop at the Castle Mall. The focus was 'What Matters to Us'. Our first task was to make autumn leaves. We decorated our leaves by creating lots of different layers and sticking them together. On the back of our leaves we drew a picture of what is important to us. We drew pictures of our family, friends and school. We then stuck our leaves on a special Riverside tree. This tree will be in dislplay in the mall for everyone to go and see.
Hallowe'en at Riverside
28.10.16
Staff, pupils, bus drivers and Mr Ward all dressed up today for the last day of term. A great effort was put in by all. M1 staff took the prize for best dressed, going the extra mile with a well rehearsed dance for the pupils. The Juniors enjoyed a Ghost trail around school. They listened to a gory story in the sensory room, fished for gruesome items in gooey textures, played pumpkin bowling in the hall and enjoyed a Hallowe'en themed attention group. All pupils danced the morning away at a Hallowe'en disco and the Seniors finished off a great day with a movie. Riverside would like to wish all pupils, staff, parents and friends a lovely and well deserved half term break.
Has anyone seen our bus drivers Dave and Greg this Hallowe'en?
Bushmills Residential October 2016
19-21 October 2016
A group of Senior pupils attended a 2 night residential at Bushmills Educational Guidance Centre. They got to take part in orienteering, went exploring on the beach, canoed down the River Bann, took part in High Rope activities and enjoyed a trip around the Coast on speedboats to Portrush and much more. What a busy and very enjoyable few days had by everyone!
Leah Has Been Fundraising!
20.10.16
Leah and and her Dad have been hard at work fundraising for our play ground and a brand new wheelchair for Leah. Here she is in a model type of the brand new one she will be getting. Leah loves it! Leah and her Dad raised a whopping £1309 for Riverside's playground. Thank you from all of us :)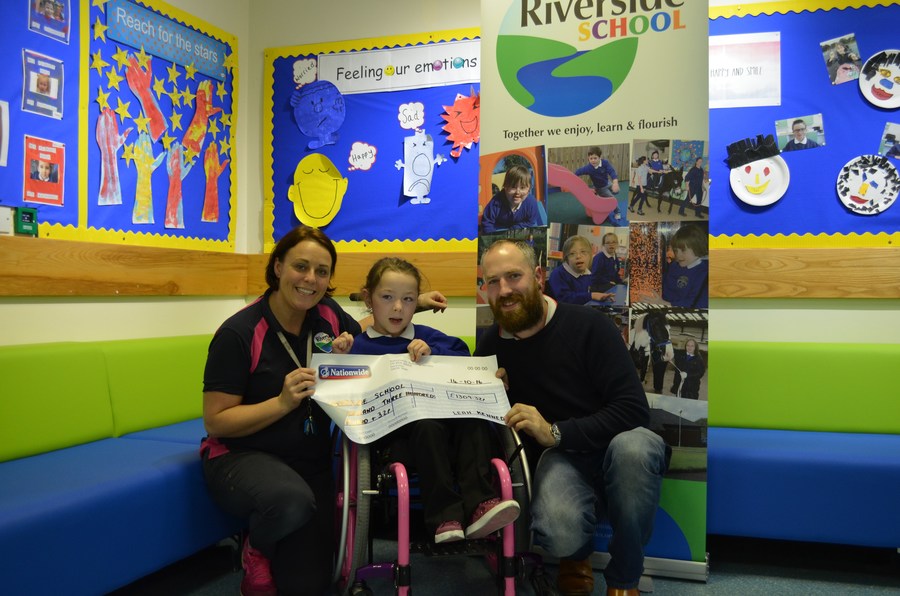 MacMillan Coffee Morning
30.9.16
After a great turn out at the MacMillan coffee morning, we raised a total of £260. Well done everyone who contributed to this great cause. Mrs Ravey's chocolate brownies went down a treat!
'Rioverside'
26.9.16
As part of the Paralympics, Riverside created their own version of events taking part in lots of disability sports including Boccia, rugby and basketball. The Juniors met in the hall throughout the week to take part in each event. To finish off, we had a healthy and sporty communal break. The pupils pressed switches to blend their own banana smoothie and juice fresh oranges. J4 made healthy energy flap jacks and J3 made scrambled eggs.
Good luck Terry and Gavin
4.10.16
Terry and Gavin visited Riverside School today along with the RDA ahead of their big cut! Both men have been growing their hair in order to get Mohicans to raise money for both Riverside and the RDA. Good luck boys! See events section for more details.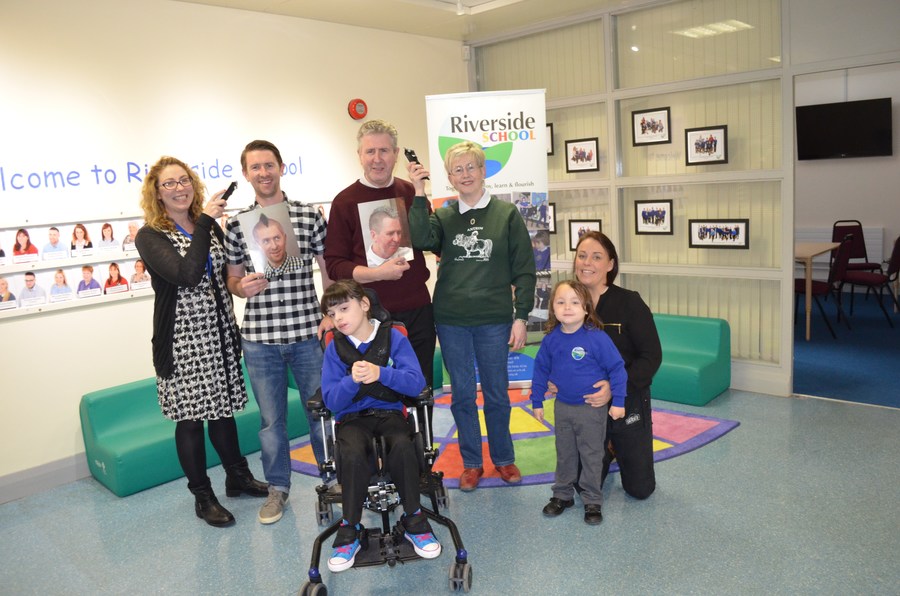 New Pupils in J1
20.916
J1 has welcomed five new pupils. We hope they 'Enjoy, Learn and Flourish' during their time at Riverside.
School Prefects
20.9.16
Our school prefects for this year. Their duties will include buddying up with the Juniors, helping out with all pupils and representing the school. Our head girl this year is Kirsten and head boy is Odhran. Well done all pupils on such an outstanding achievement.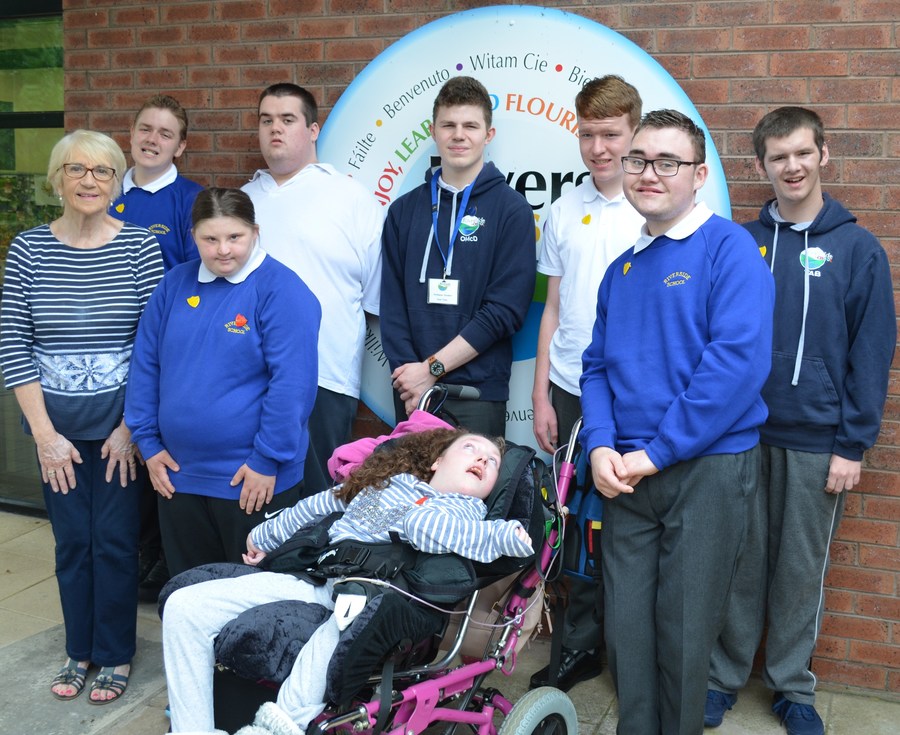 Riverside school enjoyed a great day with a few vintage vehicle enthusiasts. This was organised as part of S1 and S2s transport topic although all of Senior School had the opportunity to participate. Pupils experienced enjoyable rides in a few classic cars including a BMW convertible, Sun Beam Rapier convertible, a Rover that saw action in WWII, Austin A50 and a Ford Classic. Pupils also got to sit on and explore a yellow belly Massey Ferguson 35. Riverside school would like to express sincere thanks to any of the County Antrim vintage clubs that provided these vehicles and took the time to bring them up to the school. The pupils had a fabulous day!
Well done to Riverside School on winning a Community Excellence Award from Tesco NI!