For our latest up to date school news, please follow us on facebook by clicking the facebook link below.
The Senior Show: The Christmas that Santa forgot
7.12.17
The Junior Nativity: A King Is Born
7.12.17
Well done to all pupils and staff who took part in telling the story of the Nativity. A great show!
Riverside School is Growing!
9.11.17
Riverside has welcomed 11 new pupils this year. As a result of that growth, we have just had a new extension. Check out the photos below.
Rebound Therapy
6.5.17
Riverside School is delighted to have two staff members now trained in Rebound Therapy. Rebound Therapy is a form of physiotherapy. It uses trampolines to provide therapeutic exercises to people with a wide variety of disabilities and additional needs. The therapy involves using the moving bed of the trampoline to promote movement in the participant.
Football friendly
February 2017
Some of senior pupils had the opportunity to travel to Kilronan Special school in Magherafelt for a football friendly. All pupils enjoyed the experience and hope to play each other again sometime soon.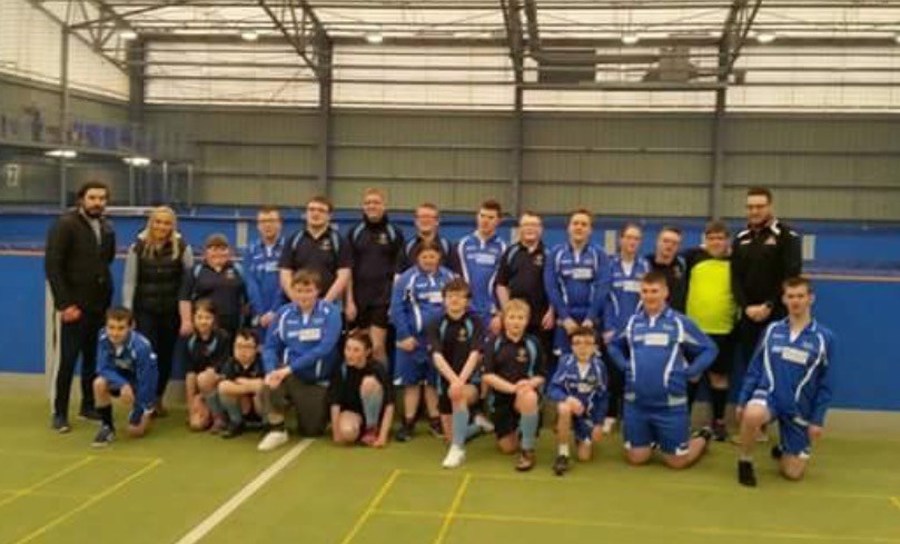 Replay Theatre at Muckamore Pool
18.11.16
A group of pupils from Riverside recently attended a Replay Theatre performance at Muckamore Pool.
The show was called 'Into the Blue' and it was aimed at meeting the needs of our pupils working on the Sensory Curriculum. The show was absolutely excellent; the pupils were greeted by the actors and they made them feel so comfortable and relaxed in the water. Once the performance began the actors introduced each pupil individually, singing to them and building their interest. The pupils were fully engaged with all members of staff, smiling, giggling and reacting to a wide range of stimuli. This was a tremendous opportunity for our pupils and we hope to avail of this again in the next school year. We would like to say a big Thank-you to all the wonderful actors for providing such a stimulating, fun and interactive session in a same and familiar learning environment.
'Rioverside'
26.9.16
As part of the Paralympics, Riverside created their own version of events taking part in lots of disability sports including Boccia, rugby and basketball. The Juniors met in the hall throughout the week to take part in each event. To finish off, we had a healthy and sporty communal break. The pupils pressed switches to blend their own banana smoothie and juice fresh oranges. J4 made healthy energy flap jacks and J3 made scrambled eggs.
Good luck Terry and Gavin
4.10.16
Terry and Gavin visited Riverside School today along with the RDA ahead of their big cut! Both men have been growing their hair in order to get Mohicans to raise money for both Riverside and the RDA. Good luck boys! See events section for more details.
Riverside school enjoyed a great day with a few vintage vehicle enthusiasts. This was organised as part of S1 and S2s transport topic although all of Senior School had the opportunity to participate. Pupils experienced enjoyable rides in a few classic cars including a BMW convertible, Sun Beam Rapier convertible, a Rover that saw action in WWII, Austin A50 and a Ford Classic. Pupils also got to sit on and explore a yellow belly Massey Ferguson 35. Riverside school would like to express sincere thanks to any of the County Antrim vintage clubs that provided these vehicles and took the time to bring them up to the school. The pupils had a fabulous day!
Well done to Riverside School on winning a Community Excellence Award from Tesco NI!