Visit from Danske Bank
10 February 20
Local staff from Danske bank in Antrim visited Riverside School. Pondus the penguin came along too. The pupils got to sing money songs and rhymes, try out different money tasks and learn about how to use and save money. A great learning experience had by all. Thanks to Danske bank for coming to Riverside and giving every pupil a goody bag.
Mr Peter Weir, Minister of Education visits Riverside School
January 2020
The Governors and staff were delighted to welcome Minister for Education Mr Peter Weir to school for a visit, to discuss the announcement of the school enhancement programme. The Minister undertook a tour of the school facilities and spent time talking with Governors, staff and pupils.
Education Minister Peter Weir has announced 18 schools which will advance in planning under the second call to the School Enhancement Programme (SEP).
Twelve primary schools, five post-primary schools and Riverside special school will benefit from an estimated capital investment of £45 million
Celebrating our Classroom Assistants
September 2019
It was national Teaching assistant day on 16th September. Miss Mcann helped everyone celebrate in style at assembly. Our Head boy, Luke, presented all our very special teaching assistants with a certificate. This was to recognise their continuous hard work and the amazing things they do in Riverside School. They all got to enjoy treats in the staff room for their breaks afterwards. A very big and special thank you to each and every one of them!
Mark Allen raises Money for Riverside
September 2019
Mark Allen has been a long lasting friend and support to Riverside over the past few years. His care and generosity to Riverside School is so welcomed and greatly appreciated. This year Mark b a snookathon where he invited (and challenged!) the local community to play snooker with him. His efforts raised £11500! Mark was invited to a school assembly where he met all the pupils and presented the school with a cheque. Everyone was delighted and know the money will help provide school with the resources it needs. A big thanks to you Mark. Well done!
Staff Well Being
January 2020
Staff well being is very important at Riverside. This year we are working alongside the Northern Ireland Chest Heart & Stroke charity to improve health and well being among our staff. Mr Andrews runs a very useful health and well being group for staff, a chance for everyone to share healthy meals and fitness goals. He runs a circuit class every Wednesday afternoon, sets all recruited members a physical task, leads a weekly weigh in and Sharee leads a walking group. As part of our Twilight training last week we talked about how we can make the right choices to improve our own physical and mental health and well being. Thanks to Simon and Sharee, our well being champions who have taken the lead on our new and improved health and well being journey.
Young Enterprise
Dec 2019
Pathways have been very busy with their Young Enterprise project in December. They set up a stall in the Castle Mall to sell some of their products. We will have more for sale in January for anyone who missed out
Riding for the disabled
Thank you so much to Patricia and everyone at Laurel View RDA for a wonderful Christmas Party.
Terry the Barber
Terry the barber has been in school every Tuesday and Thursday from September giving haircuts to our pupils.
He has been fantastic with the pupils, taking time to help them de sensitise them to the whole process.
For any of the boys who have missed appointments over the past few weeks, Terry has very kindly agreed to open up Terry's Barbershop this Sunday (15th December) and next Sunday (22nd December) especially for Riverside pupils. If you would like an appointment please contact the shop directly on 02894464217
ART THERAPY
Thanks to the money raised by the fantastic Mark Allen we have been able to employ an Art Therapist. Rhoda works with some of our pupils every Wednesday making sure they have a blast and getting the best out of them! Take a look at Aoife in Action.....
December 2019
A big Riverside thank you to local company Firmus for kindly donating our Christmas tree! We had a great time decorating it! Doesn't it look lovely?!
Fun Night
June 2019
Everyone enjoyed fun night. There was musical entertainment by Joe, a bouncy castle, stalls. footie frenzy, face painting, nail painting, a café, BBQ and more. Moe's grill provided us with the burgers helping us to raise over £1500. As well as all the fun, Ryan Luney came along to break not only one but three World records with his epic skill of fire breathing back flipping. Well done Ryan. Thank you to all who sponsored us, donated and attended.
A Sad Goodbye
June 2019
This year we say good bye to Codie and Thomas as they each the age of nineteen. They will be missed very much by the staff and pupils of Riverside. We wish you both all the best of luck and happiness in the future.
Antrim Festival Colour Run
12 June 2019
All pupils got to watch and/or take part in the colour in this year as part of the Antrim festival. Minnie mouse was in attendance and pupils had the opportunity to have their faces painted also. Such a fun day was had by all. Thanks to Dave and the PSNI for all their help.
Balmoral Show
May 2019
Some of our Senior pupils had the opportunity to show Dexter cows at Balmoral Show. They learned how to care for the cows and show them off in the ring. This year they competed with other special schools. All pupils put in a superb effort. Well done everyone involved.
One Mile Toddle, Antrim Castle Grounds
Friday 17th May 2019
Riverside school is a member of "Antrim and Randalstown Schools: Moving Forward Together". This year, MFT have been worked in partnership with Community Relations In Schools (CRIS) and Antrim and Newtownabbey Borough Council (ANBC) to host a "One Mile Toddle Waddle" for all Moving Forward Together Schools. Some of our Senior pupils took part along with our nursery pupils to enjoy the one mile challenge at Antrim castle Gardens. A great day was had by all.
Pathways Scoop up a Young Enterprise Award
May 2019
Pupils from pathways won Best Overall Team and Team programme at the outstanding teamwork awards for their part in the young enterprise programme.
They were invited to a Gala ball black tie event in City Hall to receive their awards. It was a great experience and Riverside is very proud of our young adults.
Holy Communion
5 May 2019
Some of our pupils made their first Holy Communion at St. Joseph's Chapel in Antrim. They made their school, friends and family so proud. Well done Eunan, Kaelin and Oliver. A special mention to Devlin who completed all preparation classes, after already making his Holy First Communion. Thanks to Laura, Carmel and Father James O'Reilly for helping to make this day so special.
Eco Schools
May 2019
Our pupils took a look at single use plastics and their impact on the environment. They decided to try and replace all single use plastics in our school with reusable plastics. Check out our video below to see their mission in action! This is all part of our target to become a Green Flag School.
Head Boy and Head Girl
Congratulations to Ben and Darragh who became Riverside's Head boy and Head girl for this school year, 2018-2019.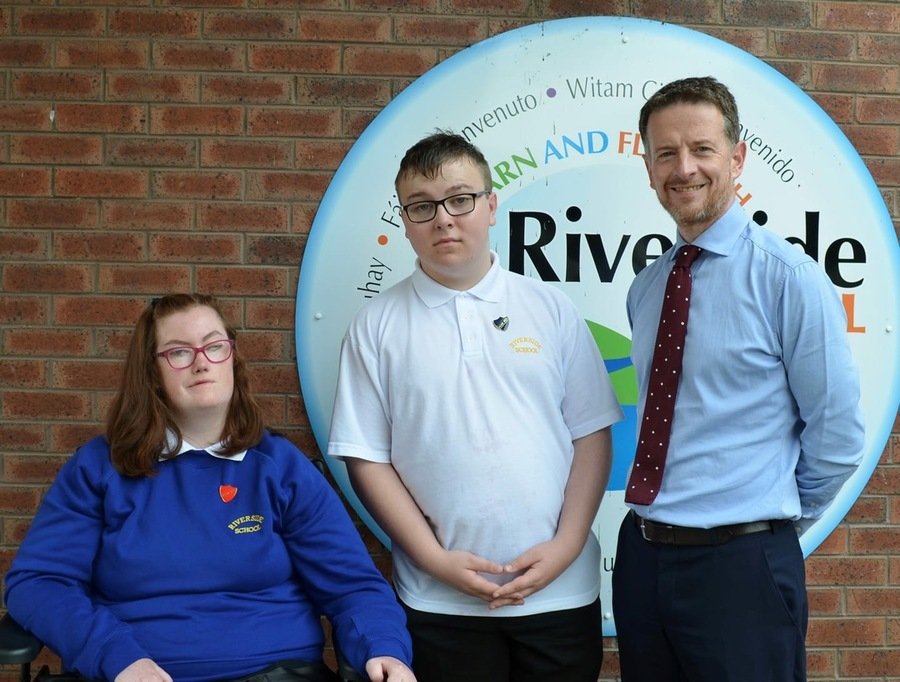 For our latest up to date school news, please follow us on facebook by clicking the facebook link below.
End of Year
June 2018
Riverside have had a great end to their year in perfect, sunny weather. The Juniors and seniors collected certificates and performed at an end of year celebration assembly. Parents joined us for a BBQ. We are going to miss our Senior pupils; Tiarnan, Thomas and Joseph as they leave school and venture into new prospects. We enjoyed our end of year outings and our Annual fun night which raised £1500. May we take this opportunity to thank every parent, friend, family member and our local community who has supported us throughout the year. See you all in September!
Success at the Balmoral Show
May 2018
Riverside School, Antrim, has been collaborating with the Dexter Cow Society in a brilliant project that trained our pupils to groom and show rare-breed Dexter Cows.
The pupils began training on a weekly basis in September and have recently showcased their talents in the ring in Northern Ireland's premier event in the farming calendar; The Balmoral Show.
Show Day was a huge success and saw the pupils making their own successes with dealing with the media and entering the ring . Each team had a designated pupil to lead their cow and a number of groomers tasked with keeping the cows (and pupils) looking their best.
Sponsored by Dunbia, they all really looked the part in their show-coats and team T-shirts
It proved to be quite a challenge to keep the feisty beasts under control, but each of the teams worked really hard and did a great job of showing off their skills.
Well done everyone who took part, thanks to everyone who helped and supported us and thanks to Dunbia for the sponsorship!
Riverside Get New Playground Equipment
April 2018
Thanks to everyone who has contributed to raising money for our playground. Riverside has recently invested in new equipment across the school. The pupils have been enjoying this well needed equipment greatly.
BOOM win Best Team
19.4.18
Massive congratulations to our BOOM team who have won the Best Team Award in North Eastern Region and a special mention to Hope who has secured the Young Entrepreneur Award! Big thanks to Jane Hanna from Young Enterprise and Kerri Bradley HR Manager for Robinson Services who have supported the pupils on their journey and who came to assembly to present the awards. Well done BOOM!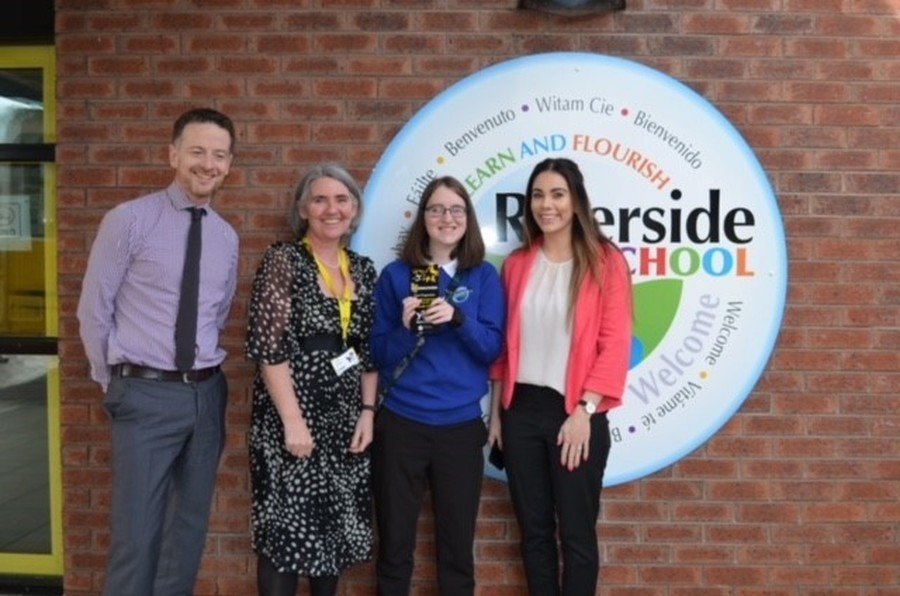 Shona is now a Forest School Leader
26.2.18
"A Forest School is an innovative educational approach to outdoor play and learning."
The philosophy of Forest Schools is to encourage and inspire individuals of any age through positive outdoor experiences.
By participating in engaging, motivating and achievable tasks and activities in a woodland environment each participant has an opportunity to develop intrinsic motivation, sound emotional and social skills. These, through self awareness can be developed to reach personal potential.
Forest Schools has demonstrated success with children of all ages who visit the same local woodlands on a regular basis and through play, who have the opportunity to learn about the natural environment, how to handle risks and most importantly to use their own initiative to solve problems and co-operate with others.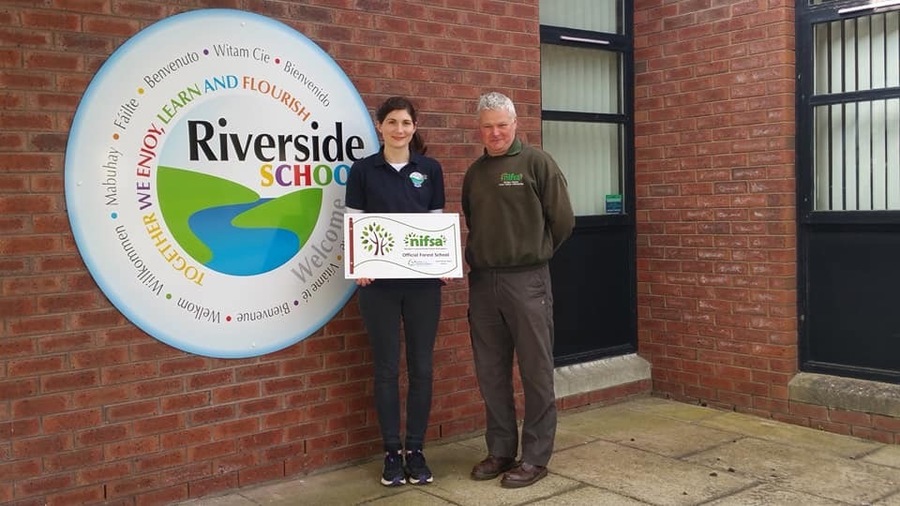 Juniors Celebrate Chinese New Year with local Chinese
February 2018
The China Court, Antrim kindly hosted the Juniors on Wednesday and Thursday for their educational outings in order to celebrate the Chinese New Year. The pupils visited China Court restaurant, coloured in pictures and sampled rice, chicken balls, sweet and sour sauce and more. The pupils had a blast and were given gifts at the end. Thank you China Court for your generosity and kindness and helping us celebrate the Chinese New Year with you!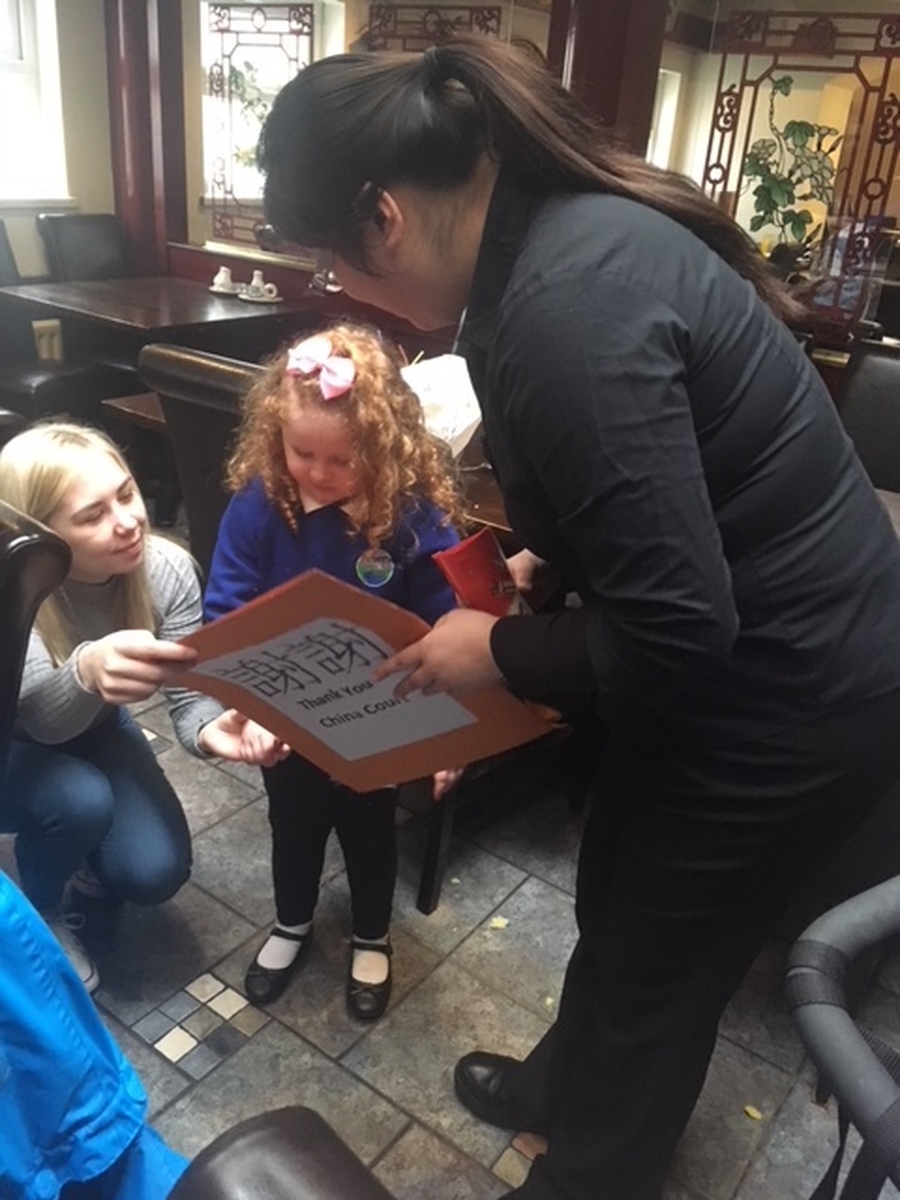 Riverside become the new Boccia Champions
January 2018
Riverside entered two teams from our senior school in the Disability Sport NI Boccia tournament in Antrim Forum at the end of January. Both teams were exceptional, giving their all in a closely fought competition. We are so proud of the Riverside Rollers who were undefeated in the tournament and won a very tight final to be crowned the Boccia champions 2018! Congratulations team!
.